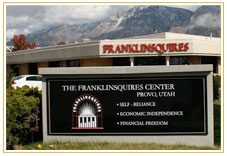 The FranklinSquires Companies, LLC owns, operates and enjoys strong association ties with numerous private businesses and successful entrepreneurs. Linked by a common objective to operate according to the Principles of Prosperity, our portfolio companies work with us and each other to attain profitable bottom lines and long-lasting success.
page 1 | page 2
Content for id "cleared" Goes Here
FreeCapitalist Enterprises

Provider of media resources focusing on the Principles of Prosperity, including radio, internet, electronic and magazine communications.
www.freecapitalist.com

Rick Koerber Enterprises

Claud R. Koerber's motivational speaking engagements and personal business consultation services..
www.rickkoerber.com

FranklinSquires University

Private, for-profit educational organization designed to assist men and women in their quest for prosperous living through the medium of real estate investing.
www.franklinsquires.net

Producer Revolution Membership

Membership-based organization united to creating a world of freedom, peace, prosperity and happiness for all mankind.
www.producerrevolution.com

American Founders University

Private education organization assisting individuals in their quest to obtain self-reliance, economic independence and financial freedom.
page 1 | page 2