Recognized as a company of integrity and innovation, FranklinSquires represents one man's vision shared and supported by thousands. C. Rick Koerber, after being surprised by the dot-com collapse in 2000 and finding himself with almost $1,000,000 of debt and subsequently filing for federal bankruptcy protection, developed into a successful multimillionaire in less than five years by learning and applying what he now recognizes as the "ancient principles" of economic prosperity.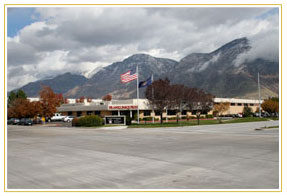 Following what he had considered a very humiliating public failure, Koerber renounced business and began studying literature related to America's founding. A pattern of principles started to emerge as he studied what the Founders' considered their "formula for success." This formula consisted of truths referred to by the Founders as "ancient principles." As an experiment Koerber began applying these principles to creative real estate investing. Surprised by the results, Koerber was able to pay back all of his previous debts plus interest in just a few short years. Living a life altered by the Principles of Prosperity, Koerber embarked on a mission to create an infinite network of prosperous, like-minded people also committed to living and sharing these principles. Defining prosperity as happiness in all aspects of life, Koerber organized FranklinSquires Investments, LLC in 2002 in Provo, Utah to guide others toward prosperity.
Operating out of his home, Koerber began teaching a small handful of students creative real estate techniques packaged within the framework of the Founders' principles. The venture proved enormously successful for Rick and many of his students. In early 2003 he, along with seven of his best students, partnered to form The FranklinSquires Companies, LLC. With a redefined mission to help individuals, families and businesses worldwide achieve self-reliance, economic independence, and the liberating consequences of prosperity, "FranklinSquires" established its commitment to developing a global infrastructure of education, media and finance by working with inspired entrepreneurs to build world-class companies dedicated to this mission. While working with FranklinSquires Investments, LLC, the partners of The FranklinSquires Companies, LLC become the first association of financially free individuals known as the "free capitalists."
The first venture of The FranklinSquires Companies, LLC was "The FranklinSquires Institute" where individual students from all across America learned "principle-based" creative real estate investing with a guarantee from Rick that "any student not realizing at least twice the tuition paid" would receive a full refund. The Institute later became an Internet-based distance learning institution, supplemented with regional one day and three day seminars, offering a one year curriculum that guaranteed to students that they would get "out of the rat race" in less than a year if they followed instructions and kept their commitments to principle. The Institute has subsequently enrolled thousands of students and generated an excess of $1,000,000 in revenue between 2004 and 2005.
Experiencing tremendous success, FranklinSquires continued to work with the Institute to refine its principle-based creative real estate program. In 2004, utilizing the 13 Principles of Prosperity as identified by Koerber, FranklinSquires established The Equity Mill™—a unique industry changing approach to buying and selling real estate from an investor's perspective. In 2005, the Equity Mill™ (originally a division of Hill Erickson, LLC) generated over $110,000,000 in annual revenues.
FranklinSquires currently operates from its 2.6 million dollar headquarters facility located in south Provo and continues to develop its sophisticated group of portfolio companies. A number of notable achievements include the acquisition of the well-established communication company VIP Media and the establishment of a live broadcast, Internet radio network—FreeCapitalist Radio™, with listeners in more than 41 states.
FranklinSquires has since witnessed to its portfolio a number of highly successful ventures, namely a fast-food chain restaurant, Iceberg Drive-Inn; a full production movie company, Main Street Movie Group; Engenuity Life, a life insurance company; Rick Koerber Enterprises (Rick's personal consulting business and motivational speaking endeavors); Lucent Real Estate, real estate brokerage, the Producer Revolution, a membership-based organization meeting weekly in cities across the United States to learn, network and plan positive social changes in their surrounding communities; and many others.
Today as FranklinSquires continues to change and grow, it remains dedicated to changing lives by sharing the Principles of Prosperity across American and around the world.